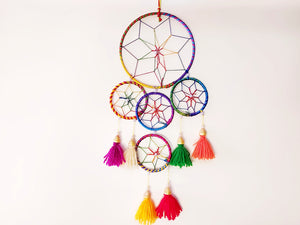 Wall Hanging - Dream Catcher
Regular price
Rs. 750.00
Sale price
Rs. 850.00
Symbol of Hope: Handmade Dream Catcher
Embrace a symbol of hope with our intricately handcrafted dream catcher, a vision of a world where compassion and harmony reign, and all life is cherished. Each purchase contributes to turning this dream into reality, as we strive to create a world free of animal suffering and in perfect harmony with nature.
Artisan Craftsmanship
Individually crafted with love in India, each dream catcher is a masterpiece of delicate care and exceptional attention to detail. The uniqueness of every piece adds to its charm, reflecting the artisan's personal touch. Measuring 16 inches in height and 6 inches in width, it's a captivating addition to any space—whether in a bedroom, lounge, hallway, or any corner that needs a touch of beauty.
Vegan and Eco-Friendly
Our commitment to sustainability is reflected in the materials we use. Wrapped in faux silk, the dream catcher exudes quality and texture, all while being completely vegan and eco-friendly. This conscious choice aligns with our vision of a world where respect for all life is at the forefront.
Dream Catcher Lore
The dream catcher's origins lie in Native American culture, where the night air is believed to carry both good and bad dreams. Hung over or near your bed, the dream catcher lets positive dreams pass through its intricate design, allowing them to gently descend through soft feathers. Meanwhile, negative dreams become entwined in its web, dissipating with the arrival of a new day.
Imperfect Perfection
Each dream catcher is a testament to human touch and artistry, making it a true reflection of the maker's skill. Please note that minor imperfections, slight differences in size, and variations in color may be present due to the handmade nature of the piece.
Bring a symbol of hope and harmony into your space with our handcrafted dream catcher. Let it inspire you as you contribute to a future where compassion, respect, and coexistence define our relationship with the world around us.
---
Share this Product
---
More from this collection